100% Online Experience
Shop Our
Express Store
Instant Pricing - No Hassle - Build Your Deal Online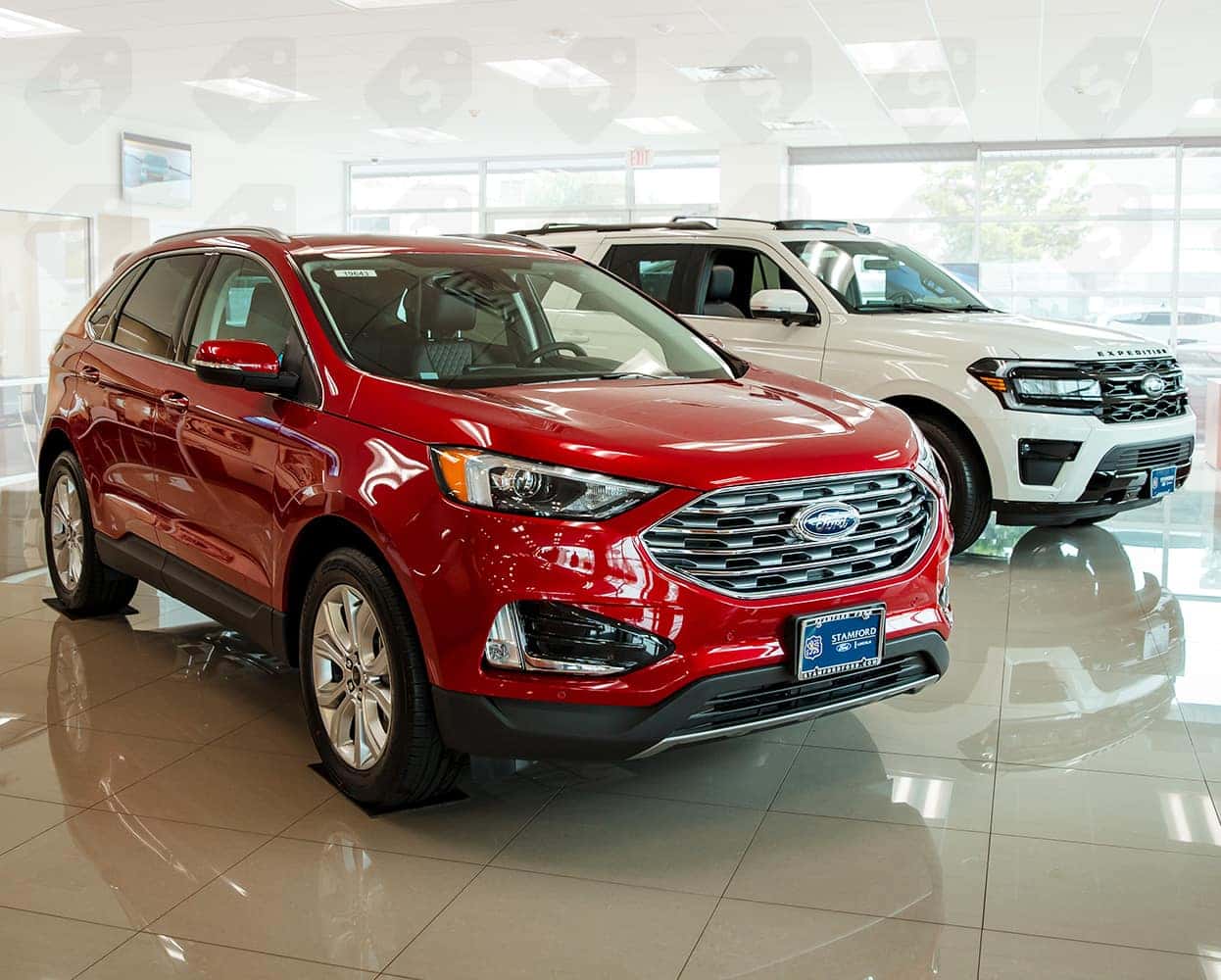 Take Advantage of This Month's Current Offers
Every month Ford releases incredible cash-back offers and special financing rates along with discounts featured in other special programs.
We're Here For You
Stamford Ford always puts customers first!
Don't take our word for it: Read our reviews and see what everyone is saying.
Michael went to great lengths to make sure we are satisfied customers while buying a certified car from Stamford Ford.
Marco was very responsive and helpful throughout the process. Would not hesitate to buy from him again.
Barry and the entire Staff at Stamford Ford made my buying a used car one of the best experience i have had with a dealership in a very long time. They really place "care" back into customer care, and my husband and i were very grateful. They were professional and polite, that is rare in today's environment. Thanks Barry and company - I am enjoying my newly used jeep. Happy Holidays!
This has been the best experience I ever had buying a vehicle. I was refer to Marco from a good friend and this was a great experience. Marco is very knowledgeable. Thank you.
Barry and Gus did an excellent job searching all available inventory to find us the vehicle we wanted. We are happy to find the model and interior we were looking for.
I was very happy and satisfied with the entire purchasing process of the 202 F150. You and your entire team made my journey exceptionally easy and stress free. I greatly appreciate your attention to detail and providing me with great customer service.
Great service excellent. Thank you for everything this is my first car and new car bought here in the us. Thanks Marco for helping me from A to Z.
Fantastic customer service I bought multiple vehicles from stam Ford and ease of purchase just keeps getting better. Every step they accommodated even delivered my cars to my office!
Exceptional service from start to finish and follow up service truly a top notch outfit.
The entire experience with Mike was great. Mike's charming communication style and his commitment to making client satisfied and happy are outstanding. Mike loves his job and cars he sells! He offered me a truly great deal on Ford Explorer ST which was impossible to turn down. Without the exaggeration, Mike and people like him make Stamford Ford dealership an awesome place to visit, buy a car and get car serviced!
Belen Thank you. Very happy with my new Ford Escape. We will have many miles together
The dealership and it's employees are all friendly treat you like one of there own.
First time buyer at Stamford Ford. Barry was great to deal with. From the first phone call and throughout the purchase. Very accommodating meeting our schedule. 2 words, Organized & Professional. Already recommend Barry @ Stamford Ford to friends and family. Also, thanks to Dan for his time reviewing the vehicles bells and whistles. Thanks
very professional and prompt in their response. they were great on scheduling events that I had to attend
I recently had the pleasure of working with Mike to purchase a new Ford F-150, and I couldn't be happier with the experience. Mike's knowledge of the vehicle and his commitment to finding the right fit for my needs were outstanding. He was patient, informative, and genuinely cared about making sure I got the best deal possible. Thanks to Mike's excellent service, I'm now the proud owner of a Ford F-150, and I couldn't be more satisfied with my purchase. I highly recommend Mike for anyone looking for a new vehicle!"
An absolute pleasure to work with in finding me the perfect car. Professional. Accommodating. Courteous.
Quick, friendly and efficient service. This is our 3rd vehicle purchased from Barry. He is so lovely to work with.
Quick, friendly and efficient service. It's a beautiful dealership and everyone is very friendly. Highly recommend.
I purchased a used vehicle from Stamford Ford and Michael Mykytey was professional and a pleasure to deal with. Everything was explained clearly and he answered all of my questions honestly.
It was a pleasure working with Barry for my recent Lincoln Navigator purchase. Communication was prompt and the car is perfect. Thanks!
The service experience was really good, fully satisfied all my needs, thanks to Michael Mykytey
It was a pleasure working with Barry and Debbie.great jobs guys.so happy with my new ford.
Salesman Barry Pasquilani very personal and knowledgeable about the Ford Edge is was purchasing. Thank you
Dealer offered great service and Michael was great and did a wonderful job while offering his expertise on de bronco and alternatives.
I had a great experience with the dealership. They communicated quickly and efficiently to my initial request and had everything ready for my test drive when I arrived. Michael was fantastic to deal with.

Welcome to Stamford Ford
Award Winning Customer Service
You always enjoy the highest levels of care and professionalism at Stamford Ford. We have eight consecutive President's Awards for customer service and five consecutive Ford Elite Awards to prove it.
Zero Stress Buying
Putting guests through a stressful negotiation process goes against all of our values. Instead, we treat every customer with respect and kindness, making the whole process fun and easy.
A Franchella Family Company
The experience at Stamford Ford is set by our leader, Dominic Franchella. From the top down, we're motivated to treat everyone like family and make a positive impact on our community.
Contact Us
Stamford Ford
212 Magee Avenue
Stamford, CT 06902
Sales:
(877) 680-3893
Service:
(877) 822-5014
Parts:
(877) 866-6610
Directions